"You have to have a little bit of crazy to be successful. I want crazy in the clubhouse every day. You need to be crazy to be great. I love crazy." – Joe Maddon
There's so much I love about Chicago – the architecture, the history, the people, the city's love of baseball, and the food. My heart may reside in New York with the Yankees during baseball season, but I feel like it has a second residence in Chicago with the Cubs, especially with the inimitable Joe Maddon in the clubhouse. I'm hoping he's onto something with that crazy quote above – because I definitely know crazy – and if that's what it takes to be great, I feel like it's only a matter of time for me to achieve greatness. 😀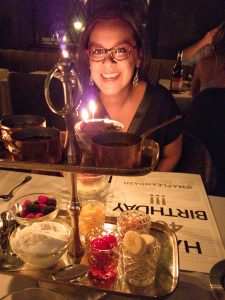 We have been to the windy city a number of times, and most recently for a quick overnight as the first stop on my four city #Feasting40 tour for my 40th birthday in the summer of 2017. This was my first time back in Chicago as a gluten-free diner, but luckily some of my favorite Chicago foods are already gluten free (cocktails/Bayless's Mexican/steak), so it wasn't too hard picking out places to make reservations.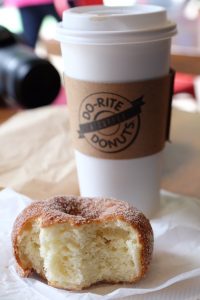 The one standout memory from this speedy in-and-out trip to Chicago though had to be the *yeasted* gluten-free donut I had at Do-Rite. I think that might have been my favorite bite in all four cities on my birthday trip. Freshly fried, light as air, perfectly coated in cinnamon sugar, and celiac-friendly. I know where my first stop will be the next time I'm in town!
With super limited time, we only managed to hit a few places this time around, which I've noted below.
Title
Category
Address
Description
Maple & Ash
Special Occasion Restaurant,Steakhouse
8 W Maple St, Chicago, IL

mapleandash.com
312.944.8888
$$$$
Every time we're in Chicago we feel obligated to go to a fancy steakhouse. Maple & Ash didn't disappoint at all, which is always a good thing when you see that many $. Service, cocktails, starters and main courses were spot on. The only critique I had was that they were a little lacking in gluten-free desserts (the only option I had for my birthday dinner there was the build your own sundae with a lot of topping swaps).

Three Dots and a Dash
Cocktail Bar
435 N Clark St, Chicago, IL

threedotschicago.com
312.610.4220
$$
Tiki speakeasy. A little pricey, but super fun. Enjoy giant tiki classics in creative mugs in a space that will make you transport you out of the bustle of the Chicago city streets. Unfortunately, the food menu isn't very GF friendly, but you didn't go to a tiki bar for the food, did you?

Scooter's Frozen Custard
Ice Cream
1658 West Belmont Avenue, Chicago, IL

scootersfrozencustard.com
772.244.6415
$
Lovely little frozen custard store. Maybe I'm getting old, but I think that this custard is good enough as is without any mix-ins "concrete-style", which anyone avoiding gluten should steer clear of anyways.

Do-Rite Donuts and Coffee
Favorites
50 West Randolph Street, Chicago, IL 60601

doritedonuts.com
312.488.2482
$
Their simple cinnamon-sugar *yeasted* gluten-free donut had me weeping with joy. I LOVE donuts, and after going gluten-free I've only been able to find GF cake donuts until I discovered Do-Rite. If I lived in Chicago I would be here at least once a week.

Frontera Grill
Mexican
445 N Clark St, Chicago, IL

rickbayless.com
312.661.1434
$$
A Rick Bayless restaurant stop is always on the list when we're in Chicago. If you love Mexican food, I would highly recommend making a reservation here. If only the churros were gluten-free.

Museum of Contemporary Art Chicago
Museum
220 E Chicago Ave, Chicago, IL

mcachicago.org
312.280.2660
$
Lovely, compact museum near the Magnificent Mile. *Tip: If you are a museum member at your local museum - see if they cross-honor your membership here. We got in free with our Brooklyn Museum membership cards and also got a discount in the store too!

Rotofugi
Shopping
2780 N Lincoln Avenue Chicago, IL 60614

rotofugi.com
773.868.3308
Super fun pop-art toy store with a small gallery in the back, with art for sale.

Spacca Napoli Pizzeria
Pizza
1769 West Sunnyside Avenue, Chicago, IL

spaccanapolipizzeria.com
773.878.2420
$$
Surprisingly good gluten-free pizza in the Ravenswood neighborhood. Pies are individually sized, so be prepared to order multiples and share.