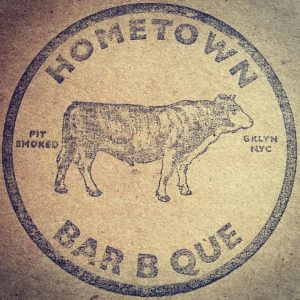 I've always loved lists. For three years, keeping the "hot restaurant lists" was my main job when I worked in the awards department at The James Beard Foundation. The restaurant list in my farewell to gluten tour in NYC was pretty substantial (Roberta's pizza, Peter Pan donuts, and She-Wolf Bakery sourdough still make me weep with longing), and I think I'll forever miss the convenience of being able to eat anywhere in my beloved home city of New York.
When I first started dining out as a gluten-free celiac diner, I was hesitant to go to any place that wasn't a "dedicated gluten-free" establishment, but my food loving soul just couldn't bear the thought of such a tiny Rolodex of go-to places.
So, to marry my love of lists and food, I thought I'd start keeping a running list of my new favorite places in my home city of New York with excellent eats (that just happen to be gluten-free), as a reference for other food loving celiacs and the people that love to dine with them.
There's a wide range of opinion on cross-contamination and how "safe" it is to eat out when you have celiac disease. I can't promise that there is no chance of being "glutened" in any of the restaurants that you'll find on my lists, but I can promise you that I've eaten at all of these places with no ill effect, and felt completely safe. However, I would highly recommend making a habit of telling your server of all food allergies at your table before you order.
Title
Category
Address
Description
Hometown Bar-B-Que
BBQ
454 Van Brunt St, Brooklyn, NY 11231

347.294.4644
$$
Hands down, my favorite NYC barbeque joint. A bit of a trek out to Red Hook, but the brisket alone is worth the trip. Added bonuses - there is a beautiful view of the Statue of Liberty down the block, and a huge Fairway (very well stocked with GF groceries) is right across the street.

Dekalb Market Hall
Favorites
445 Albee Square W, Basement Level, Brooklyn, NY 11201

dekalbmarkethall.com
$
This may be cheating a little bit since there are slew of restaurants in here, but this is my favorite NYC food hall. Warning, there may be triggering spots in here for the newly gluten-free, but if you can look beyond the bakery and sandwiches, you can find a lot of GF gems. I'm particularly fond of Eight Turn Crepe, Paella Shack, and Craft + Carry. Added bonus - Trader Joe's and Alamo Drafthouse cinema are in the same building. Perfect date night!

Pomme Frites
Favorites
128 Macdougal St, New York, NY 10012

pommesfritesnyc.com
212.673.1234
$
This place does one thing, and one thing only - crunchy, salty, delicious, Belgian frites. The fries are totally safe, since they are the only thing ever in the fryers. But make sure to reference their sauce menu, which is clearly marked with allergen warnings.

Tali Restaurant
Gluten Free
77 Lexington Avenue, New York, NY 10010, United States

talirestaurant.com
212.245.5560
$$
This new "dedicated gluten-free" Italian restaurant is a welcome addition to my go-to list. Delicious American Italian comfort foods - pastas, sandwiches, salads, and more. They also have a bakery next door, but I wasn't wowed by it. In this rare instance, I would say order extra mozzarella sticks and skip the gelato. 

Calexico
Mexican
278 5th Ave, Brooklyn, NY 11215

calexico.net
347.254.7644
$$
I have a soft spot for this Cal-Mex joint. The blood orange margaritas, chips and salsa, and carne asada bowl with "crack" sauce never fail to satisfy.

Dos Toros Taqueria
Mexican
668 6th Ave, New York, NY 10010

dostoros.com


$

There may be other burrito shops, but they are all dead to me ever since Dos Toros came to town. This is my favorite fast casual Mexican burrito bowl go-to. All 14 NYC locations can be found

here

.

Rhong-Tiam
Thai
31 E 21st St, New York, NY 10010

rhongtiamnyc.com
212.420.7500
$$
Authentic Thai take-out, with nearly 3/4 of the menu labeled as gluten-free. Whenever I'm craving pad thai or curry chicken, this is my favorite hole in the wall spot. There are a few seats for dining-in, but this is really more of a take-out only spot.

Dosa Royale
Indian
258 Dekalb Ave, Brooklyn, NY 11205

718.576.3800
$
Insanely delicious (giant) dosas in Fort Greene. You can also find their cart at the Smorgasburgs & Fleas in Brooklyn too. Almost the entire menu is gluten free, but there are some fried wheat breads and samosas to steer clear of. For the un-initiated, dosas are giant Indian crepes filled with potatoes, veggies, or cheese, and served with a medley of dipping sauces.

Egg Shop
New American
151 Elizabeth St, New York, NY 10012

646.666.0810
$
Fancy egg sandwiches, bowls, and excellent coffee in a teeny SoHo shop. Their spicy B.E.C. fills the hole in my heart that my beloved (and now gluten-treif) bodega egg and cheese used to occupy.

Craft
New American
43 E 19th St, New York, NY 10003

craftrestaurant.com
(212) 780-0880
$$$
Tom Colicchio's New-American NYC classic. Seasonal menus, where almost all dishes (except pastas) can be made gluten-free. And for you celiac bread fiends - they also offer a gluten-free bread course.

Caracas Arepa Bar
Latin American
291 Grand St, Brooklyn, NY 11211

caracasarepabar.com
718.218.6050
$$
Crazy good Venezuelan arepas, addictive milkshakes and cocktails, and a laid back environment. Very accommodating to multiple food allergies, so it's a great place to meet with tricky groups. You can also find Caracas in the LES of Manhattan, and seasonally on Rockaway Beach.

Raymi
Latin American
43 W 24th St, New York, NY 10010

212.929.1200
$$
Delicious Peruvian food in the Flatiron neighborhood. Most menu items can be made gluten-free, and the sangria is delightful.

Kesté Pizza & Vino
Pizza
271 Bleecker St, New York, NY 10014

kestepizzavinonewyork.com
212.243.1500
$$
A rare favorite that crosses from my life before celiac and into my current GF one. The pizza may seem expensive, but it is one of the few rare certified gluten-free pizza places, and the pizza is pretty amazing. There are three locations for GF pizza - but only the Fulton St & Williamsburg locations have a dedicated fryer for arancini, croquettes, and a fried dough "salad". Also, your gluten eating friends don't have to feel like they are sacrificing anything here, because Kesté's regular wheat based pies are pretty remarkable too.

Noglu
Bakery
1266 Madison Ave, New York, NY 10128

noglu.fr
646.895.9798
$$
There are a handful of dedicated gluten-free bakeries in NYC, but this is the only one that I'll happily return to anytime. A but pricey, and the space is super small, but everything in the case tastes as close to their gluten filled counterparts as I've eaten outside my own kitchen. The hot plates for brunch are pretty good too - especially the croque madame.

Bareburger
Burgers
149 Court St, Brooklyn, NY 11201

bareburger.com
347.529.6673
$$
One of the many Bareburger locations that I frequent. I still haven't found any other burger place in NYC with gluten free buns and dedicated fryers that matches up to this allergen-friendly chain.