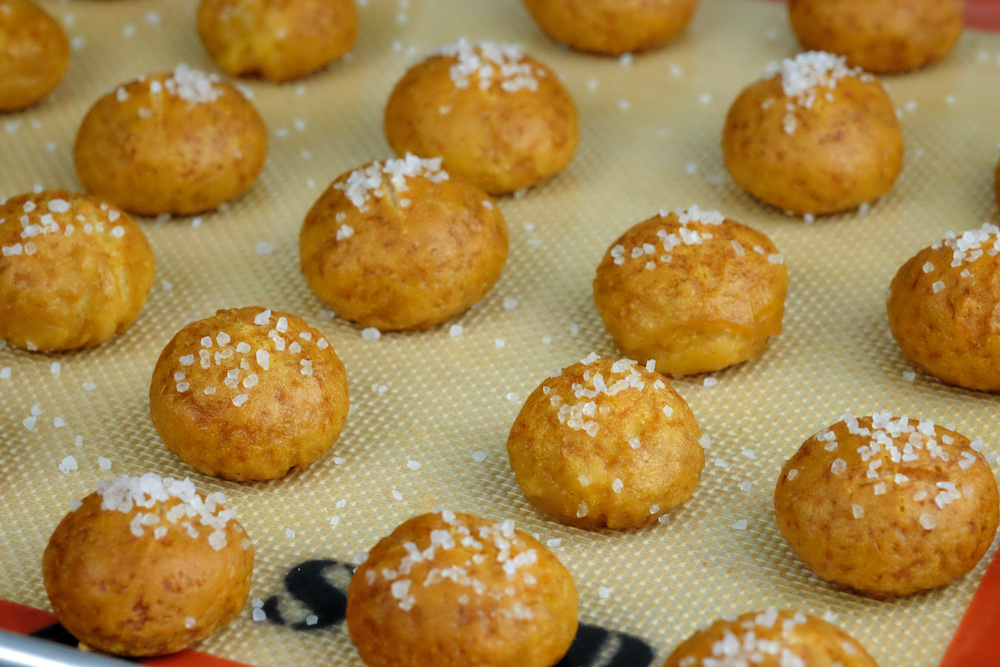 I'm not a big football fan, but I am a huge fan of snacks. I've had plenty of hard store-bought pretzels since I've gone gluten-free, but I've missed homemade soft pretzels, still warm from the oven. So, on this Super Sunday of snacks, I thought it would be fitting to play with a recipe for pretzel bites, especially as the Philadelphia Eagles are playing. One of the things I always looked forward to on trips to Philly were the Amish soft pretzels at Reading Terminal Market, which are now verboten as they are definitely *not* gluten-free!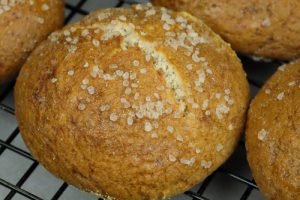 Initially, I was toying with a pretzel-bun recipe that might work well for sloppy joes or cheeseburgers. On my first attempt, I used sorghum, sweet rice, and fava bean flours with tapioca and potato starches. Overall, the buns came out looking beautiful, but they were a bit too dense.
To lighten up the dough a bit, I gave up the fava bean flour, and found that the resulting dough spread a little bit too much when proofing for buns, but worked out perfectly as pretzel bites.
Adaptability on the fly is definitely a lesson I've learned while continuing testing gluten free recipes. While there's definitely still more than a sliver of the perfectionist in me who really wanted to throw all those "failed" pretzel roll dough balls into the trash, I managed to tamp down that urge and rescue the dough. With a bit of re-rolling into smaller bites post proofing, and some magic kitchen kismet, I ended up with exactly the light and chewy soft pretzels I was craving.
I'm still on the fence with gums, although I find myself leaning towards the non-gum fence more often than not. I made this recipe twice – once with psyllium husk and then again with xanthan gum, and found both provided enough structure for these little bites. I prefer the dough made with psyllium husk (which I've outlined in the recipe below), as I find the sliminess of doughs made with xanthan gum off putting. However, if you would like to use xanthan gum instead of psyllium, just replace the 2 teaspoons of psyllium with 1/2 teaspoon of xanthan gum, mixed in with the dry ingredients, and use 3/4 of warm water total. The dough with xanthan gum will be stickier and a bit wetter, and won't come apart from the side of the bowl without scraping the bowl down with a rubber spatula.
In an effort to make these for a greater audience and avoid other common allergens, I used Earth Balance margarine in place of butter, and used a coconut spray instead of an egg white wash. If you are more of a pretzel purist and want to use butter and an egg white wash, they will also work nicely in this recipe. If you do decide to use an egg white wash, I would highly recommend using silpats instead of parchment paper, as the egg wash tends to make these stick like crazy glue to parchment.
Note: If you are topping these bites with sea salt, these are best served the day they are made. If you store them in an airtight container, the sea salt on top will melt due to the moisture in the pretzel bites. However, if you use sesame seeds, or another non-salt topping, these can definitely be made ahead and then refreshed in a 350 degree F oven for 5 minutes.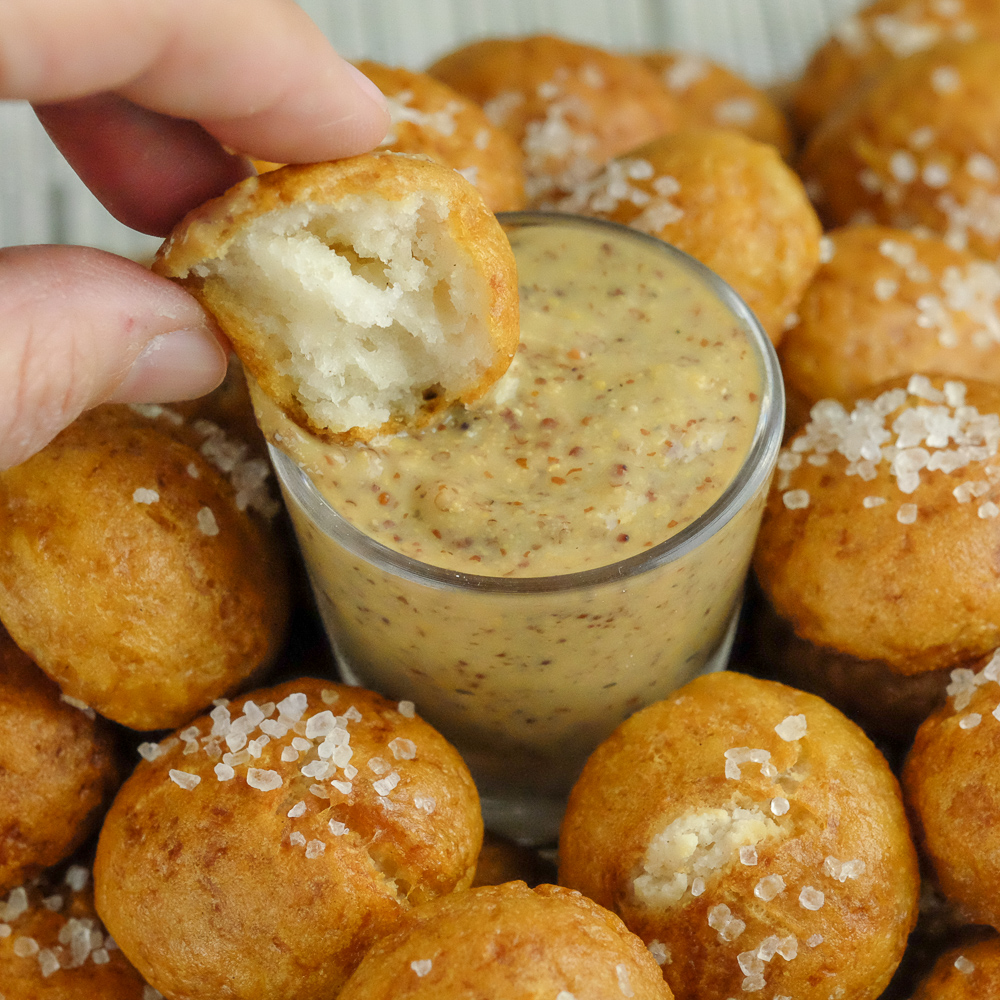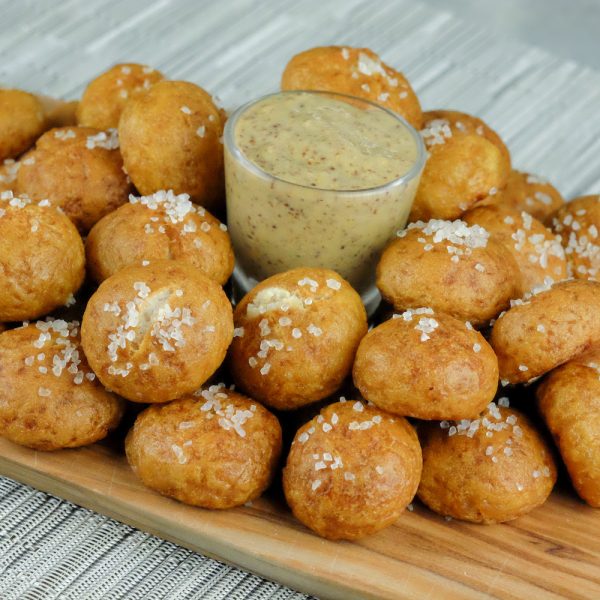 | | |
| --- | --- |
| | |
Mix sorghum and sweet rice flours with tapioca and potato starches in a stand mixer bowl. If you would like to add salt

Mix yeast and sugar with warm water, and let sit about 5 minutes to allow yeast to bloom.

In a small bowl, mix psyllium husk with 1/4 cup of room temperature water and apple cider vinegar. Let sit until psyllium husk hydrates, and turns into a gel, about 1-2 minutes.

Add yeast and psyllium mixtures to dry ingredients and mix until dough starts to form and pull away from the sides of the mixing bowl. If necessary, add 1-2 teaspoons of sweet rice or sorghum flour until the dough.

Let dough proof for about 40 minutes in a warm place, covered with plastic wrap.
In a medium sized pot, bring 10 cups of water with baking soda, salt, and sugar to a boil.
Prepping and Boiling the Bites
Roll out quarter sized balls of dough.

This is totally optional, but if you would like "split-top" bites, mark the bites with a paring knife or lame prior to boiling.

Boil the bites, 4-6 at a time in the water bath for 30 seconds on each side.

Remove bites from water bath with a slotted spoon and place on baking sheet. (Photo shows post-water bath and pre-water bath bites.)

When all bites have been boiled, spray them all with coconut spray and sprinkle with coarse sea salt (or sesame seeds, poppy seeds, everything seed mix - or your favorite pretzel topping).
Preheat your oven to 400 degrees F, and place the rack in the center position.

When you are ready to bake the bites, place the prepared tray in the oven, and immediately turn the oven down to 375 degrees F.

Bake the bites for 25-30 minutes, or until they are deep caramel brown in color.

Let bites cool for 5 minutes on the tray, and then enjoy them immediately with your favorite dipping sauce!