"Happiness. Simple as a glass of chocolate or tortuous as the heart. Bitter. Sweet. Alive." – Joanne Harris, Chocolat
I don't know what marketing executive came up with all the "national food holidays", but they seem to line up nicely for everyone digging deep to constantly produce new content for the eternally hungry social media beast. While I was poking around on one of these food-calendars, I noticed Bittersweet Chocolate day was 1/10, which inspired me to create a bittersweet chocolate loaf, as that is something I haven't made in my new gluten-free baking life.
My first attempt at a recipe mash-up didn't work out as I hoped. The loaf looked beautiful, but the bread tasted acrid and wasn't as chocolatey as I wanted. So, unfortunately, I couldn't line up my chocolate bread post with its official "day". But really, who am I kidding. Everyday is bittersweet chocolate day in our house. 🙂
After a little more trial and error, with a flour blend inspired from the America's Test Kitchen team, and trusted "regular"* chocolate bread recipes from Beth Hensperger and David Lebowitz as references, I developed the recipe below, which in my mind is a bit like the lovechild of a traditional chocolate bread and a dark chocolate brownie. I know the ingredient list may be a little daunting, but I promise the end result is worth it, especially if you are a bittersweet chocolate lover.
Feel free to play with this recipe to make it yours. If you are looking for a little bit sweeter loaf, use chopped milk chocolate instead of bittersweet. If you don't have cherries and hazelnuts, but you do have cranberries and almonds in your pantry – those would be delicious too. Don't like chunks in your bread? Skip the hazelnuts, cherries and chocolate chunks altogether and bake a lovely straight up chocolate loaf. Baking may be a bit of a science, but there's always room for a little riffing.
The one thing that I wouldn't skimp out on in this recipe is the chocolate itself. Get the best Dutch-processed cocoa and bittersweet chocolate that you can. I had Valrhona cocoa and chocolate in my pantry, but any high quality dark chocolate will work. Initially, in my first "failed" experiment (don't worry – we still ate the failure, toasted and slathered with Nutella – the savior of many a baking "failure"), I used Hershey's natural cocoa powder, which I definitely would *not* recommend in this particular recipe, as I think that was the main culprit in making the bread too bitter. Granted, that first "failure" had more of a rise than this recipe, but I'd sacrifice lift for flavor in this particular instance anytime.
*You'll probably notice me referring to "regular" recipes frequently on this site. After nearly 40 years of baking recipes with my standard arsenal of traditional gluten filled flours – AP, cake, bread, rye, semolina and whole wheat, those old recipes still feel "regular" to me. Gluten-free recipes are slowly become my new normal, but my inner pastry-chef instincts still need a little tweaking every now and then, and I still use lots of my old trusted recipe sources as jumping off points to create gluten-free versions.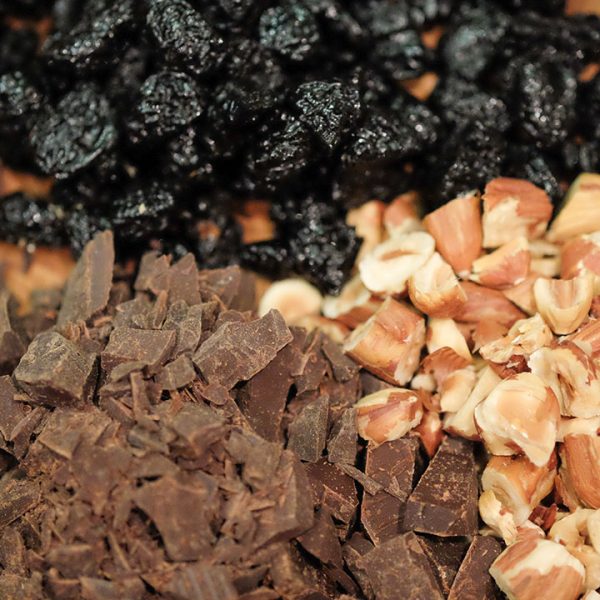 | | |
| --- | --- |
| | |
Set rack to the middle position of your oven. If you are using a stone, place the stone on the rack. Preheat your oven to 200 degrees. Once oven reaches 200 degrees, turn off your oven.

Heat milk and water to 180 degrees. Add yeast and 1 Tablespoon of sugar to milk/water mixture and let bloom for about 5 minutes, until mixture is frothy.

Mix all 4 Tablespoons of sugar, flours, psyllium husk, cocoa powder, salt, baking powder, and cinnamon in a large bowl, or your stand mixer bowl. Mix until combined.

Whisk espresso powder and vanilla into eggs.

Melt chocolate and 4 Tablespoons of butter together.

Add yeast and egg mixtures to dry ingredients and mix until no flour streaks remain. Add chocolate/butter mixture and mix until combined. Add in chopped hazelnuts, cherries, and chocolate chunks.

Spray a piece of parchment paper and place in 9" cast-iron skillet. Place dough onto parchment. Wet hands, and smooth out dough into a round loaf shape. Spray a piece of cling wrap, and place sprayed side down onto parchment paper and loaf in the pan. Place covered loaf into oven for 10 minutes.

Remove pan from oven, and let bread rise 20-30 minutes at room temperature. Rising time will depend on the temperature of your kitchen - warmer kitchens may require less time, colder kitchens may require a little more.

Preheat the oven to 400 degrees.

Once bread has risen about 1 1/2 times it's original size, remove cling wrap, spray bread with water and place in preheated oven. Immediately turn temperature in the oven down to 350. Bake bread for 50-60 minutes, or until top sounds hollow when tapped.

Once bread is removed from oven, let cool in pan for 10 minutes. If you would like to brush melted butter onto your loaf, do it now while the loaf is still warm. After 10 minutes, remove bread from pan, peel off parchment, and let bread cool completely on wire rack for a few hours. (This will be an extreme test of willpower, as your entire kitchen will smell like delicious chocolate. Now is the time to dig into that extra chocolate that I know you have to satisfy your craving while you wait for this to cool!)

Bread will keep at room temperature for 2-3 days in a covered container (I use a covered cake plate). If you would like to keep it longer, slice it and freeze in ziplock freezer bags.