The past week has been a little rough. I had the best of intentions to post a recipe last weekend, but when I baked a test recipe from a new book and the loaf was sub-par, I felt super deflated. I had a feeling that the recipe wouldn't turn out like the photo in the book when I was measuring out the ingredients, but with so many gluten-free baking experiments to play with, I felt like I would just follow the directions and hope for the best. But in baking, as in life, I should just learn to listen to my gut. To add to my annoyance, this particular experiment required me to buy some unusual ingredients that I normally wouldn't use, and also took a *lot* longer to make than other gluten-free bread recipes I've tried.
Every gluten-free baking book that I've read, with the exception of Alice Medrich's, Gluten-Free Flavor Flours, starts out with their proprietary GF flour blends, which nearly all recipes in the book then refer to. I really like the ease of GF flour blends that replace the old wheat-filled standards that used to fill my pantry – bread, AP (all-purpose), cake, whole wheat, and rye, and I've had a modicum of success with a few custom blends from books vs. the store-bought blends. However, I am still see-sawing about how I feel about the use of gums (xanthan & guar), and the additions of other common allergens (dairy/eggs/soy) in nearly all the pre-made and custom flour mixes that I've used.
Just how large does my Crayola box of flours needs to be in my pantry? Is coming up with my own GF flour blends a worthwhile project when there are already so many blends already out there? Is ease of prep more important than the end result? Something tells me it's going to take a while for me to answer all of the above.
In the meantime, while I play in the Pandora's box of the multitude of ingredients available to me as a gluten-free baker and the science of how they work together, I thought I'd share a delicious grain-free, dairy-free banana bread recipe that I have baked numerous times (including this weekend!) when I'm feeling down and out. No need for a mixer, no need for any fancy ingredients you can't find in your local supermarket, and I promise that you'll have a beautiful and delicious loaf in just over an hour.
Tried and true recipes like this are a must for any baker – gluten-free or not. I know there will likely be many more bread-fails in the upcoming year, and baking one of these quick and reliable loaves is the best counter to remind me that sometimes (most times!) it's the recipe and not me that is the failure!
There are a number of ways you can customize this recipe to make it more your own. I prefer cinnamon and nutmeg with hazelnuts &/or almonds in my banana bread, but cardamom and ginger with pistachios would also be a lovely combo. Don't like nuts but love chocolate? Omit the nuts and add chocolate chips or chopped bits of your favorite chocolate. Want something a bit more tropical? Large toasted coconut flakes and some citrus zest in place of the spices would be a delicious combo too.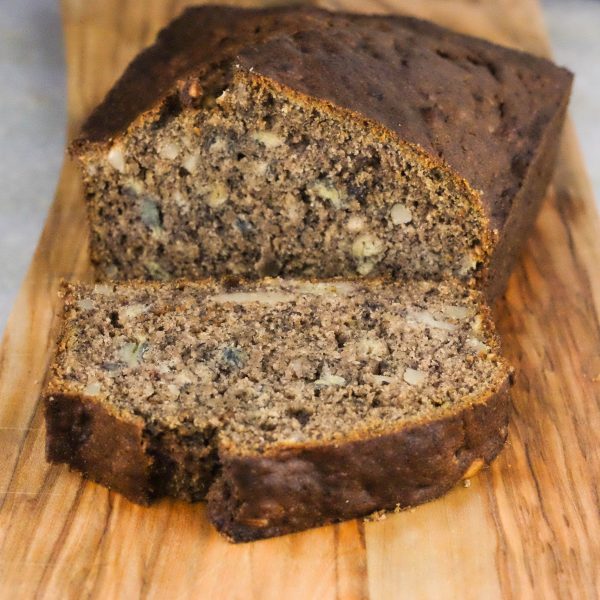 | | |
| --- | --- |
| | |
Preheat your oven to 375 degrees F, and place a rack in the middle of your oven.

Grease a 9" x 5" loaf pan with coconut spray.

In a medium bowl, mix all dry ingredients together (buckwheat flour through nutmeg).

In a large bowl, mix all wet ingredients together (eggs, syrup, coconut oil, and mashed bananas).

Sift dry ingredients onto wet ingredients, and stir to combine until there are no flour streaks visible. Lastly, if you are using nuts, mix those into the batter.

Pour the batter into the greased loaf pan, place in the oven, and bake for 45-50 minutes, or until a cake tester inserted into the center of the loaf comes out clean, and the bread has started to separate from the sides of the loaf pan.

When bread has finished baking, remove from oven, and cool in the loaf pan on a cooling rack for about 15 minutes. After this initial cooling, remove pan from loaf and place back on cooling rack to cool completely.

Slice & enjoy! Bread will stay fresh at room temperature for about 5 days. I usually store my banana bread in a covered cake plate or wrap in foil. It is also delicious toasted with peanut butter. 🙂